The IoT introduces a wide range of new security and challenges to the IoT devices the features and capabilities in all involved systems are at risk from hackers and viruses.  Their operating platforms in sectors such as communications are often most exposed and vulnerable to attack.
These attacks can target specific areas of IoT and be in different forms to affect a certain aspect like the impersonation of things which copy encryptions of communications to gain access to valuable information and 'denial of sleep' which attacks the battery of devices.
An issue to applying this new type of IoT security is that many devices use processors and systems solutions which are not updated to support sophisticated security approaches.
The information collected by smart 'things' will personalize customer requirements and experiences to deliver specific services to improve products and business moments. With the development of new approaches to IoT demands, analytic tools and algorithms will change as data volumes increase by 2020.
Architectures used by IoT devices define many of their capabilities through the use of processors whether to sophisticate enough support to an operating system, update firmware and the management of embedded devices.  All hardware designs have complicated trade-offs with their additional features mostly around the cost and upgradability. An understanding of encryption and power consumption is vital to the functionality of IoT devices thus digital skills are a major requirement.
Platforms combine the multiple components of the IoT infrastructure into one single project
There are three main categories:
Low-level device control and operations such as communications, device monitoring, management, security and firmware updates.
IoT data acquisition, transformation and management.
IoT application development which has multiple features event-driven logic, application programming, visualization, analytics and adapters to connect enterprise systems
<!–nextpage–>
Although not exactly technologies these two features are crucial for the materialization of application programming interfaces (APIs) these will play a key role in the communication and interpretation between IoT devices as sharing data among businesses and organizations.
Ecosystems which will develop in smart homes, smart cities and health care organizations as products and devices rely on a system which requires all objects to be performing at top capability. As updating standards change over time recognizing when and where updates are required is vital for the credibility of IoT.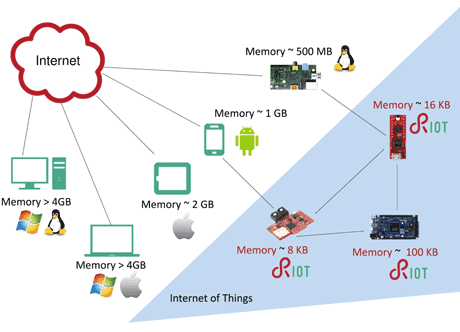 Windows and IOS are not built with IoT applications as this computer software consume a lot of power, require fast processors and lack guaranteed real-time response. The space is not adequate for small devices and might not support the chips which IoT developers make. In response to this issue aIoT-specific operating systems have been designed to match hardware requirements.
IoT devices/things will require management and monitoring to ensure their performance is suitable to consumer needs and expectations tools must be able to attend to possible millions of devices by 2020. Device monitoring covers every aspect of IoT devices such as firmware, software updates, diagnosis, crash analysis, reporting, physical management and security management.
<!–nextpage–>
Extreme high data rates must be analyzed in real time as millions of events and actions can happen through telecom and telemetry situations.  Distribution stream computing platforms (DSCPs) have been established to meet these excessive requirements in order to process these vast amounts of data in real-time analytics and identification.
IoT Networks  Low-power and Short-range
Networks involve balancing many problems which can occur on such a large scale after 2020 IoT networks will be dominating wireless connection. Requirements that must be addressed are range, battery life, bandwidth, density endpoint cost and operational cost. As the IoT has multiple elements certain technologies, applications and vendor ecosystems will need solutions to coexist.
IoT Networks Low-power wide Networks  
Cellular networks cannot deliver an adequate feature of combined technical features and operational IoT applications so a new long-term establishment of IoT networks will combine relatively low bandwidth, battery life, low hardware and operating cost with high connection density.  The emerging low-power wide area networks (LPWANs) were based mainly on proprietary technologies, it is indicated that Narrowband IoT (NB-IoT) will dominate future network space.